post
Why Your Memorial Day Post Was Offensive, and How You Can Fix It
I've talked about tone on this blog before, specifically here, in week four of my Social Media Challenge. It can be a tricky thing, especially around matters of significant cultural weight. This last Memorial Day, I took the opportunity to select some of the best and worst performers from my timeline.
Holidays like Memorial Day and Veterans Day can be difficult for us. Unlike Valentines Day or Independence Day, there's more than just celebration going on. The unbridled enthusiasm that does well for most holidays comes across as disrespectful or clueless on these more somber days.
One of the things that social media has brought us is the gift of niche marketing. We can now pare down our market and speak directly to those members, clients, and customers who really need or want our services. Everybody's heard the now popular aphorism that when your product is for everybody, it's for nobody.
When we talk about a product or service being "for" somebody, we're really talking about a new concept of ownership. Which communities own what cultural capital is a complex and ongoing discussion. For example, the third Monday in January is Martin Luther King Jr. Day. This is an national holiday, it belongs to all Americans. To not mark this holiday might seem unpatriotic, possibly even a little bit racist. On the other side of the spectrum, June 19th is Juneteenth or Freedom Day. This holiday commemorates the end of slavery in America, and is often a deeply personal experience for Black Americans. Corporations and people outside of the Black cultural experience have no ownership of this day. If a corporation, McDonalds, for argument's sake, were to post a Juneteenth update, it would seem callous and disrespectful.
Most of the problems behind the bad Memorial Day tweets come from this lack of ownership. Corporations like Hooters, IHOP, and Cinnabon don't have military connections. The men and women who have given their lives, the families who have lost their loved ones, they have ownership. Individual Americans who benefit from this sacrifice, we have ownership in that we can express our gratitude, but multinational conglomerates and their holdings can only come across as tone deaf. Especially when they post updates like these: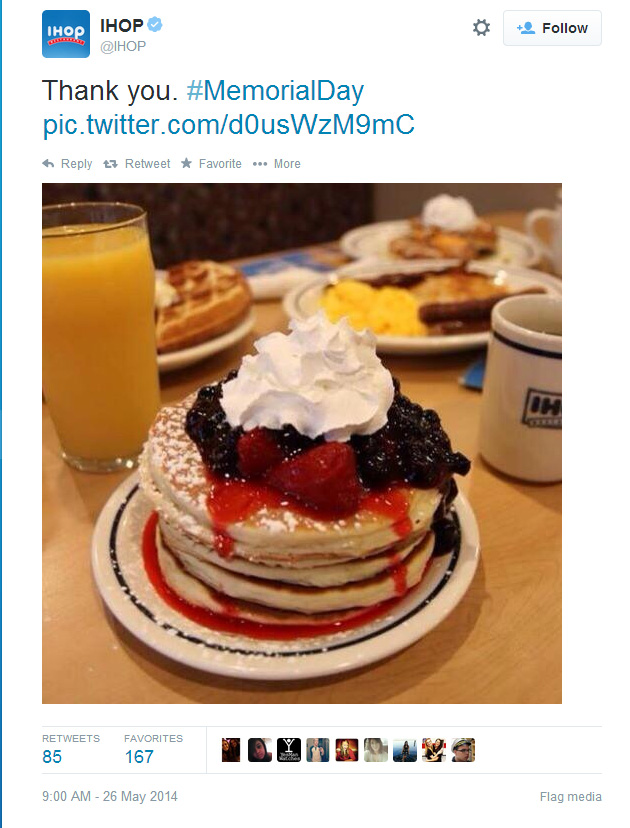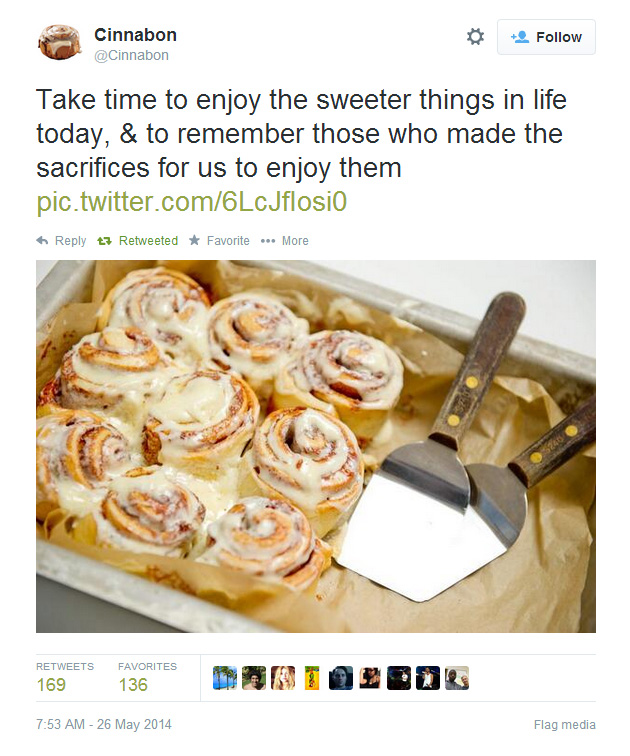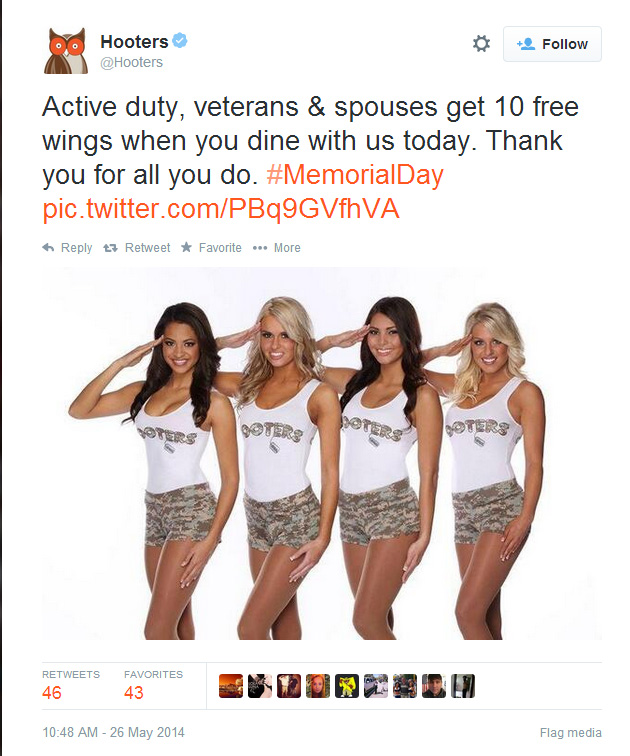 These last two are especially terrible. Military moms and dads, your children died for Cinnabon, military wives and veterans, the lives of your friends and family are worth exactly 10 chicken wings. I'm sure that's not the intention behind these tweets, but that's how they come across.
At least they didn't come off as bad as Heinz, who seemed to express joy over our dead servicemembers.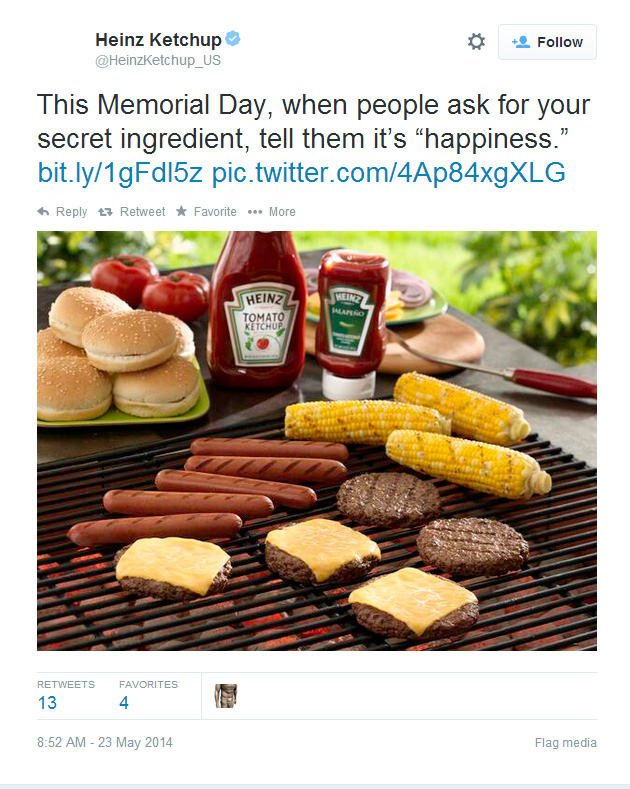 I happen to know that Heinz donated $250,000 to Wounded Warrior Project® in 2013. Instead of tweeting about their Memorial day happiness, they could have added come content to their Our Turn to Serve campaign page and talked up their goal to raise $250,000 more by July 1, 2014. Which, is just around the corner.
On the opposite side of tweeting about happiness on Memorial day, PetCo made a classic social media flub by posting something sad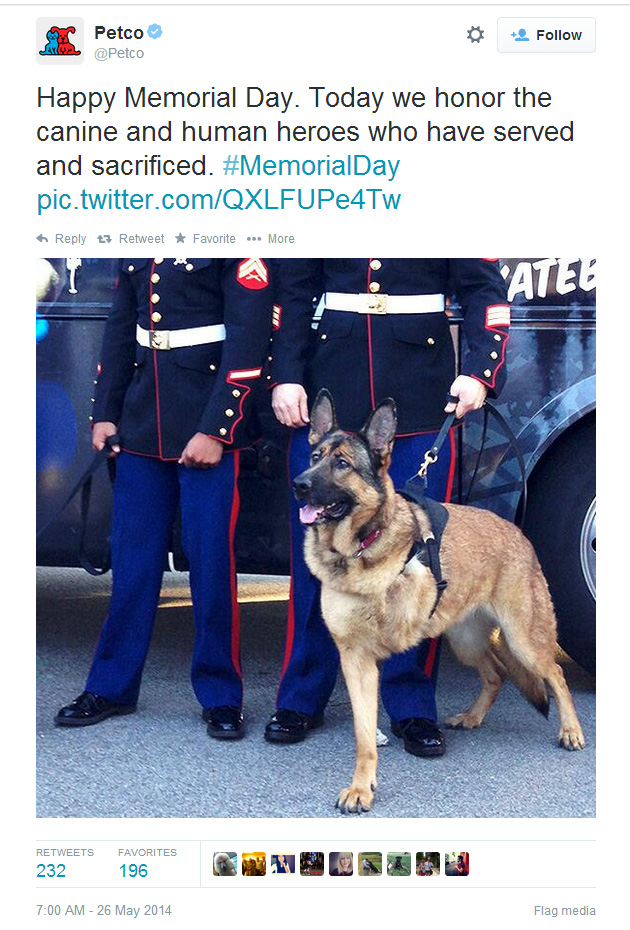 That's a handsome dog, but Memorial Day is about dead servicemembers. By drawing attention to canine servicemembers on Memorial Day, PetCo has reminded all of us that dogs also die in war. People love dogs. Dead dogs make them very sad. By using the photo of an injured animal, it also drove the point home that, while that dog may be happy now, not too long ago something horrible happened to him that caused the loss of his front leg. This is a depressing tweet.
Then there's Applebees, who's tweet seems angry.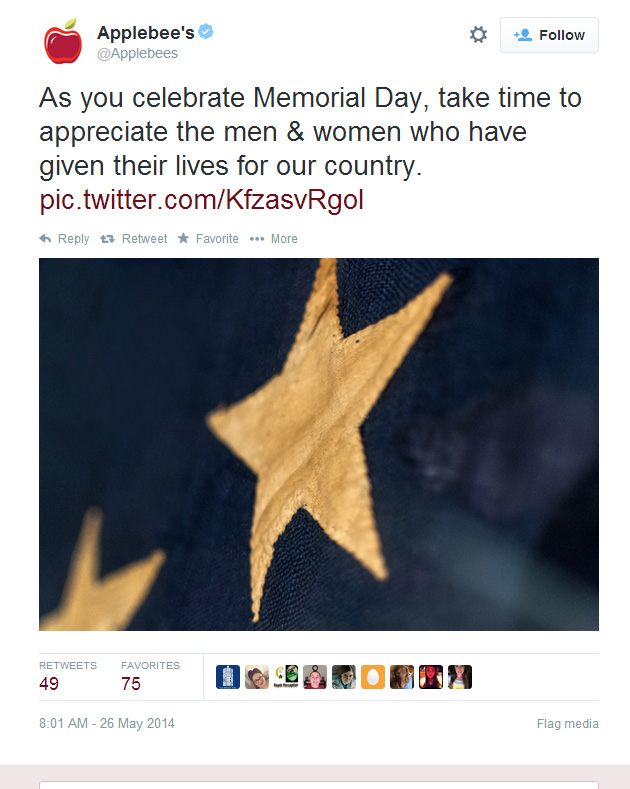 "As you celebrate memorial day...." Applebees isn't celebrating memorial day, or the tweet would say "as we celebrate," but they're hot to tell Twitter what we should be doing with our time.
The number one rule of social media marketing is to never leave your audience sad or angry. If you have to start them off sad or angry, end with hope or purpose, which both Petco and Applebee's failed to do.
My last tweet on the bad list came in the form of right place, right post, but wrong execution.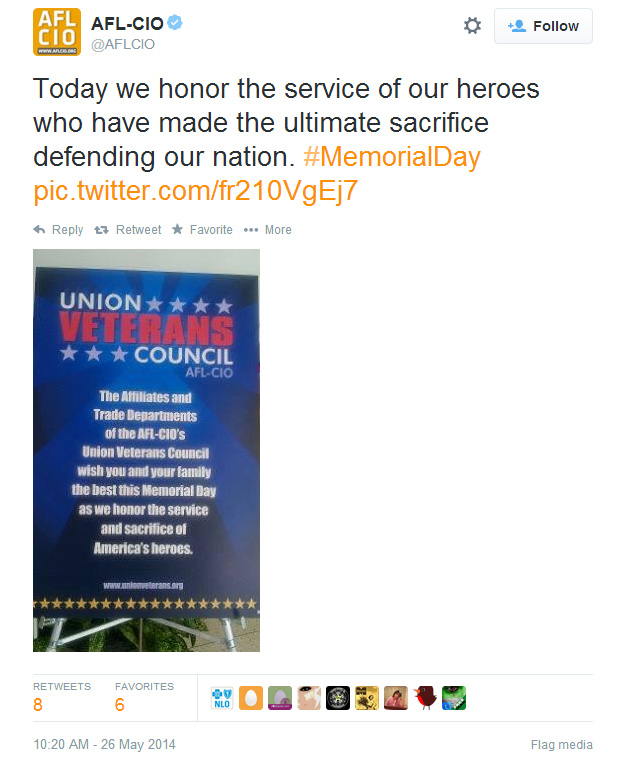 The AFL-CIO has a beautifully worded tweet, it shouts out Union Veterans Council, but the image is vertically oriented, and badly pixelated. A properly cropped JPEG taken from the original file for the poster would have made this a perfect tweet for Memorial day. As it stands, it looks like social media was a last minute afterthought. Better to have not posted any picture at all.
Not that your picture has be a masterpiece. Kicking off the good tweets, AFSCME has this simple, respectful update that any marketing manager can get behind: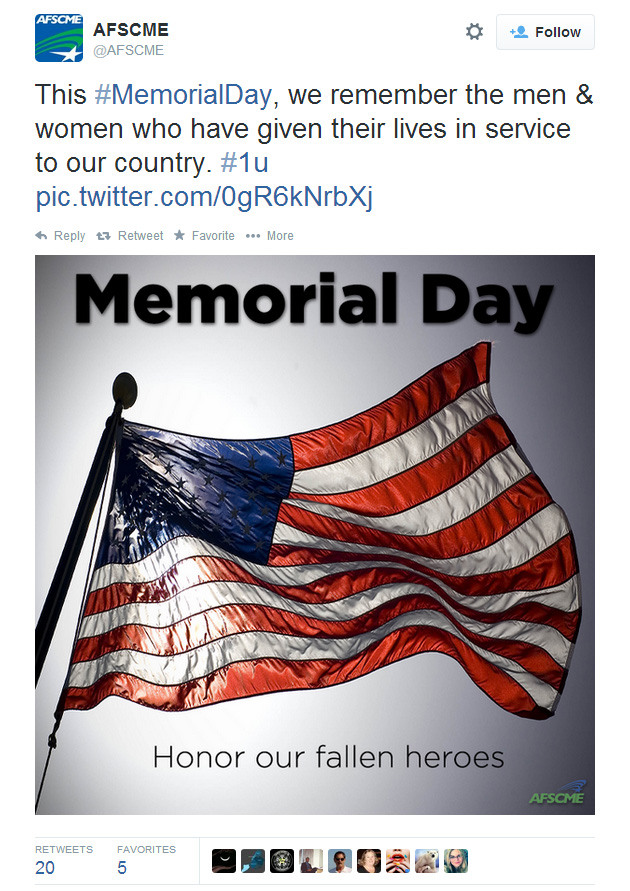 They're not pushing any agenda, or pitching any campaigns. As an American union, they're using the ownership they have as grateful Americans in order to post this spot-on remembrance.
It's not difficult to have a good memorial day tweet. Unlike regular push marketing, every word on social media doesn't have to be about your organization or what it does. In fact, it shouldn't be, or you run the risk of looking like a tool. Any of the companies on the bad list could have done this instead of what they did and they would have come across fine. I don't need to see a picture of red, white, and blue pancakes to remind me that IHOP stands for International House of Pancakes. If I followed them, I did so for a reason. I'll probably be able to keep their pancake theme in my mind while I look through their feed.
The second tweet on the good list is the National Association of Letter Carriers. As the largest civilian employer of veterans, their tweet is totally relevant to the holiday, and their picture is spot on. It's respectful, understated, and speaks both for and to their market.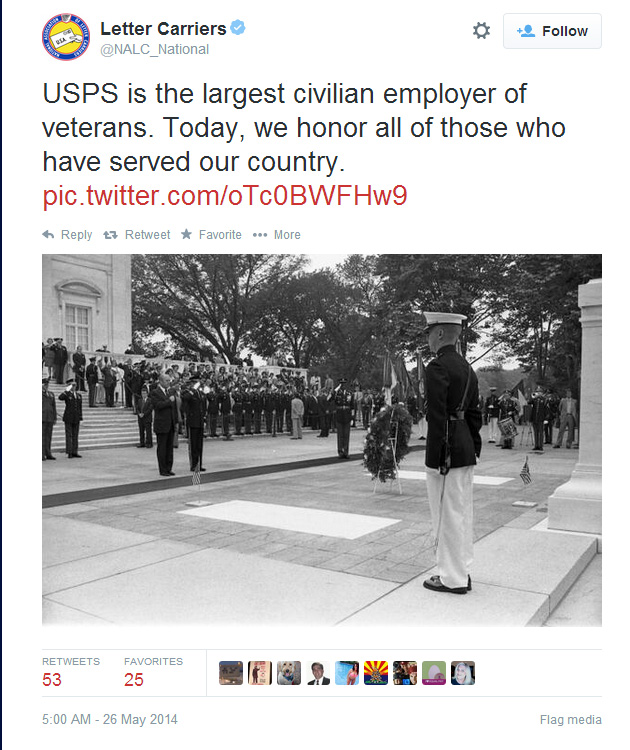 Topping the good list, Major League Baseball has the best tweet on every level. They don't mention baseball at all, but their branding comes through loud and clear. As America's sport, they would be remiss in not tweeting about the holiday, but when they do, they don't make it about themselves. They keep the focus on the service members. The image they use was clearly taken at a baseball stadium during a game, but again, that's understated. By posting this image they reinforce their support of service members by showing them in an MLB context, at a game, in the stadium. This is photographic proof that Baseball loves America's heroes. As if anyone had any doubt. It's perfect.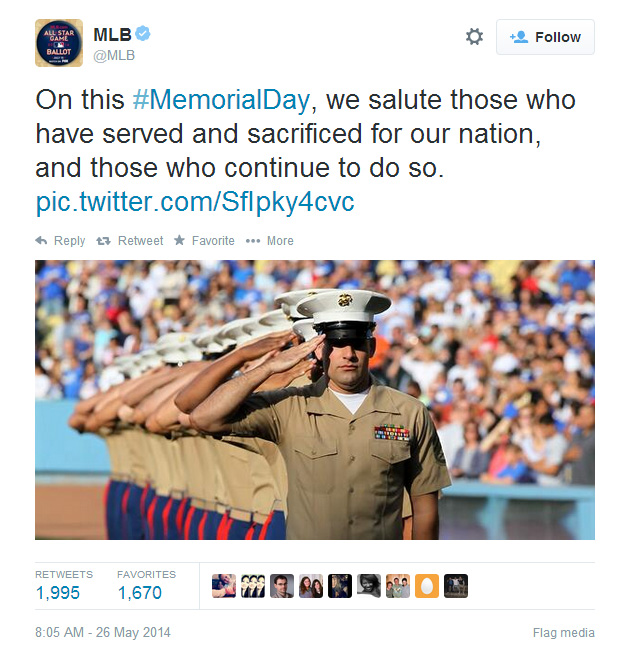 I wish I had more than three good Memorial Day tweets. The majority of my favorite brands stayed quiet on social media, which is what I would have advised them to do. Navigating a culturally packed holiday like Memorial day is a high risk situation, and unless a company has the kind of market who will look for a Memorial Day tweet, it's probably better to not participate.
That being said, honorary mention has to go to one of my favorite brands: Tillamook Cheese.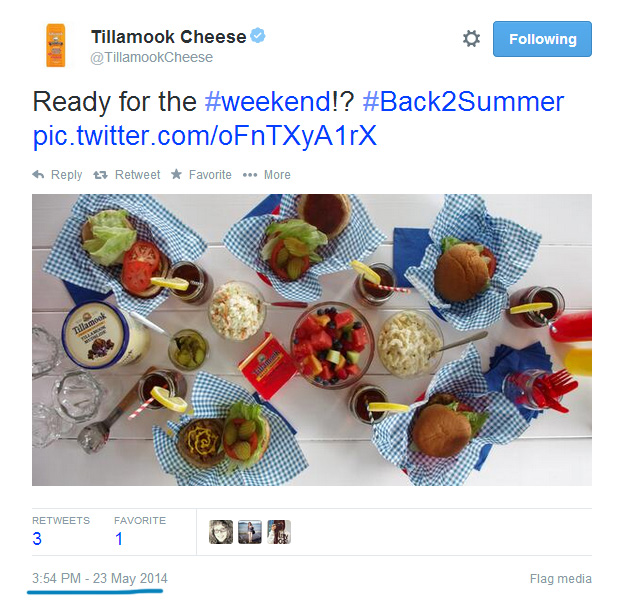 As you can see by the date, this was not posted on Memorial Day, but on the Friday before, capitalizing on the number of people who view Memorial Day weekend as the first grilling weekend of summer. This is what Heinz should have done with their tweet. By doing it the Tillamook way, you can be carefree about summer without tramping on a significant moment for a lot of your customer base.
Social media is not a place to be cavalier with your brand. Stick tight to your brand promises, act like a person, and keep your market in mind and you'll do fine. Over the course of a week, some active brands send hundreds of tweets a tone deaf tweet isn't the end of the world. But a tone deaf account can become an issue.
As always, I am available for strategy sessions and social media management. Call me at 310-876-8538, or email me at marina@marinaforhire.com. I don't charge for consultations, and I love to talk social media. Run a tweet by me, ask a technical question. Whatever it is, I want to hear from you.
~ M ~